Welcome to our workshops, the perfect way for your little ones to explore their artistic side while having a whole lot of fun! We offer an engaging, creative environment where kids can dive into exciting art projects, play games that spark their imagination, and create lasting memories. Plus, when the party's over, each child will take home a special art kit, so the creativity can continue long after the fun ends. Join us for an unforgettable experience that'll put a smile on your child's face!
Suitable for Kids Between 4 and 11 Years Old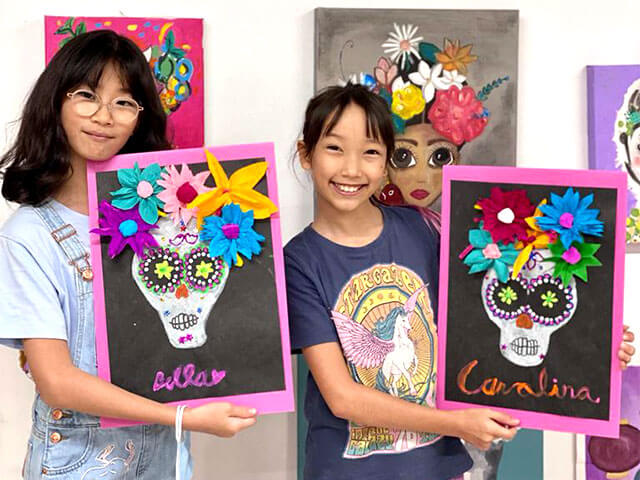 Halloween 2023 Workshop
In the "Halloween 2023 Workshop," young participants will embark on an artistic adventure. They will discover the mysteries of Halloween through vibrant paintings and thrilling crafts, allowing their imaginations to run wild.
Children go home with a finished acrylic painting and a craft inspired by a cultural festivity or their own inspiration. We encourage children to explore various media, techniques, forms of art and to experiment with their own ideas and solutions. We value the process of art making as much as the product and provide constructive feedback and guidance to the children.
We aim to promote art aesthetics, awareness and appreciation of arts in various cultures and context.
Book Your Child's Creative Weekend
Check Out Our Art Classes and Arty Party
Students will complete a painting inspired by the great masters, using: acrylics, watercolours, oil pastels, collage, etc. A special attention will be placed on techniques like: drawing and painting from real life, knowledge of materials, drawing and understanding proportion, understanding color and tone, mastering pencil control and brush strokes and color theory. Art style and artist history.
Our arty parties are a unique combination of play, art making and creative fun! We customise your party's art projects for your event. Celebrate with us for a day filled with laughter, artistic expression and plenty of smiles!