Workshops & Arty Parties.
Our art programs offer an exciting and enriching experience where children can unleash their creativity and explore the world of art. Designed for different age groups and skill levels, our art programs provide a nurturing and supportive environment where kids can learn various artistic techniques and experiment with a range of art materials and techniques such as painting, drawing, and mixed media. Through engaging projects and fun activities, kids will not only create their own unique artworks but also gain confidence, problem-solving abilities, and a deeper appreciation for the arts. Our art programs aim to ignite a lifelong love for creativity and provide a solid foundation for their artistic journey.
Art Activities For Children
Suitable for Kids Between 4 and 11 Years Old
Our workshops are theme inspired. It's a fun and social opportunity to celebrate festivities and holidays creating arts and crafts with your friends. We do paper mache, 3D models, beads art, batik, clay, and painting, Inspired by a cultural festivity or their own inspiration.
Our arty parties are a unique combination of play, art making and creative fun! We customise your party's art projects for your event. Celebrate with us for a day filled with laughter, artistic expression and plenty of smiles!
Susana Lopez Heredia is the Principal and teacher at Limoncito Art & Crafts. She has a lifelong passion for art and children's education, and has lived most of her life in Southeast Asia. Susana studied at Santa Barbara City College in California before moving to Thailand to work at the Bangkok American International School. Later, she moved to Malaysia and worked as a cultural attaché at the Mexican Embassy in Kuala Lumpur, promoting Mexican art and culture. She named the studio Limoncito after her hometown. Susana loves painting and Mexican crafts, and is especially passionate about enabling children's curiosity and play-based learning.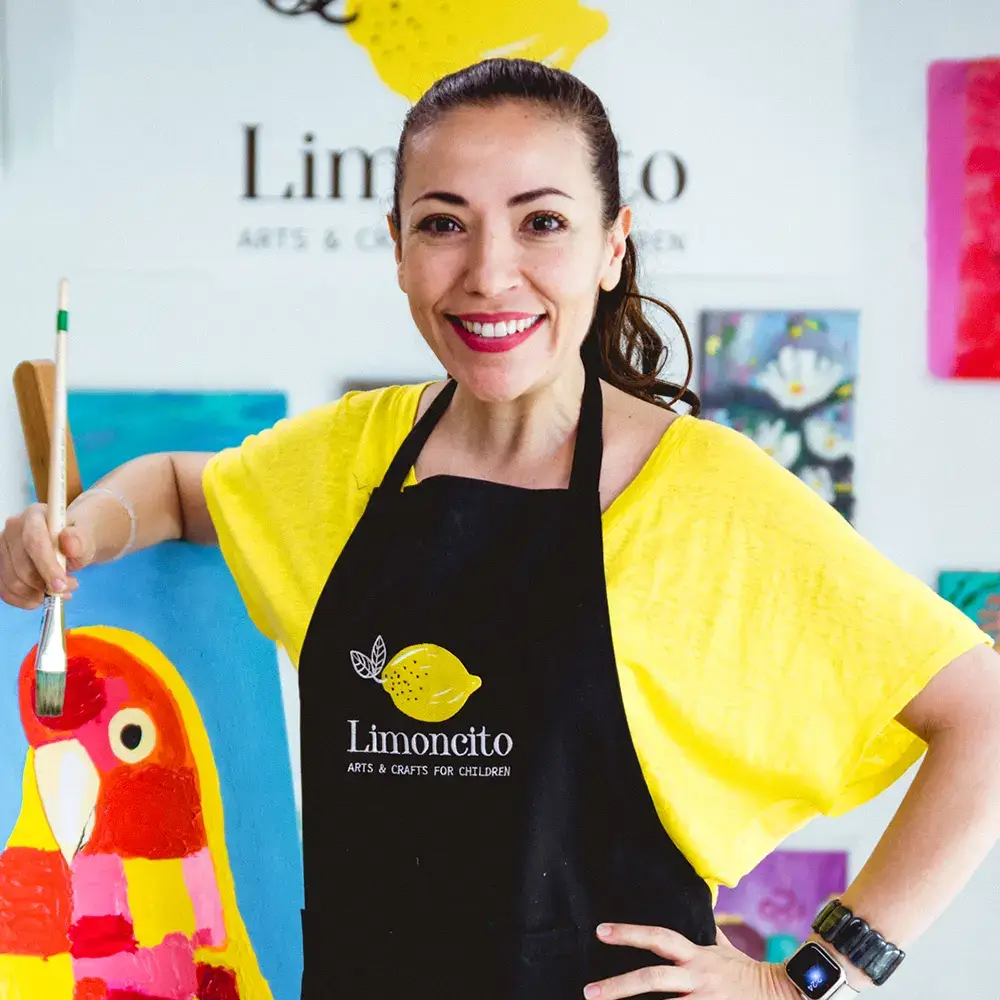 Susana Lopez Heredia
Principal
"My daughter Ling is only six years old, but I have already seen such tremendous growth in her creativity and art skills since she started attending these classes. Susana is so kind and patient with the kids. Ling loves going to her art class and always comes home with a huge smile on her face. I would recommend these classes to anyone who wants to see their child develop a love for art."
"I enrolled my son Kian in these art classes when he was nine years old, and I can honestly say it was one of the best decisions I have ever made as a parent. Susana is so knowledgeable and experienced, and she really takes the time to connect with each child. Kian has grown so much in his art skills, and we are so proud of everything he creates. He has also made some great friends in the classes, which has been wonderful to see. I would definitely recommend these classes to any parent looking to help their child develop a passion for art."
"As a parent, I was looking for a way to foster my son's creativity and love of art. I am so happy we found these classes! Susana is amazing and make each child feel seen and heard. Brian is only five years old, but he has already learned so much and developed his skills so much since he started attending these classes. I am grateful for the positive impact these classes have had on my son."